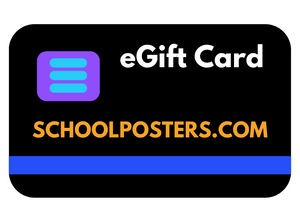 Purchasing eGift Cards is a great way to reward your staff and help decorate your school or program with fun, inspiring messages!  Our eGift Cards contain a unique code that can be used at checkout to redeem on any of our products. To redeem an eGift Card, the recipient simply types the code provided in the "Discount code" box when checking out.
Please note: When eGift Cards are purchased, the buyer will receive an email for each gift card.  The buyer can then forward those emails to each recipient or print each gift card and distribute them.  
Example:  If you order 10 eGift Cards for $20, you will receive 10 emails to print and distribute or simply forward to the recipients of those eGift Cards.  Each of those eGift Cards will include a unique code redeemable for $20 at SchoolPosters.com.